Pengaruh Kenaikan Gaji PNS terhadap Korupsi yang Ditangani oleh Komisi Pemberantasan Korupsi (KPK)
English
Keywords:
Kenaikan gaji, Korupsi
Abstract
This study aims to determine the effect or relationship between the increase in salaries of civil servants against corruption. The method used in this research is quantitative method using statistical analysis of descriptive and analytic statistics. Data used in this research is secondary data from 2008 to 2017 obtained from Corruption Eradication Commission (KPK) and Ministry of Administrative Reform and Bureaucracy Reform (Kemenpan RB). Data analysis using linear regression. Result of data analysis that is R Square: 0.085295 indicate that there is no correlation or influence of salary increase of civil servant with corruption. While Significance F: 0.44571782 this shows that the effect of pay increases on corruption is not significant. With this research is expected to have a more comprehensive strategy in eradicating corruption.
Downloads
Download data is not yet available.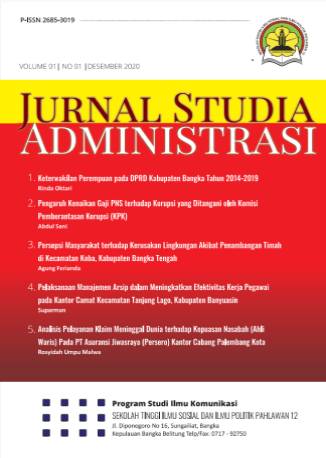 Downloads
License
Copyright (c) 2020 Jurnal Studia Administrasi
This work is licensed under a Creative Commons Attribution 4.0 International License.